About my CT Everyday Edition layout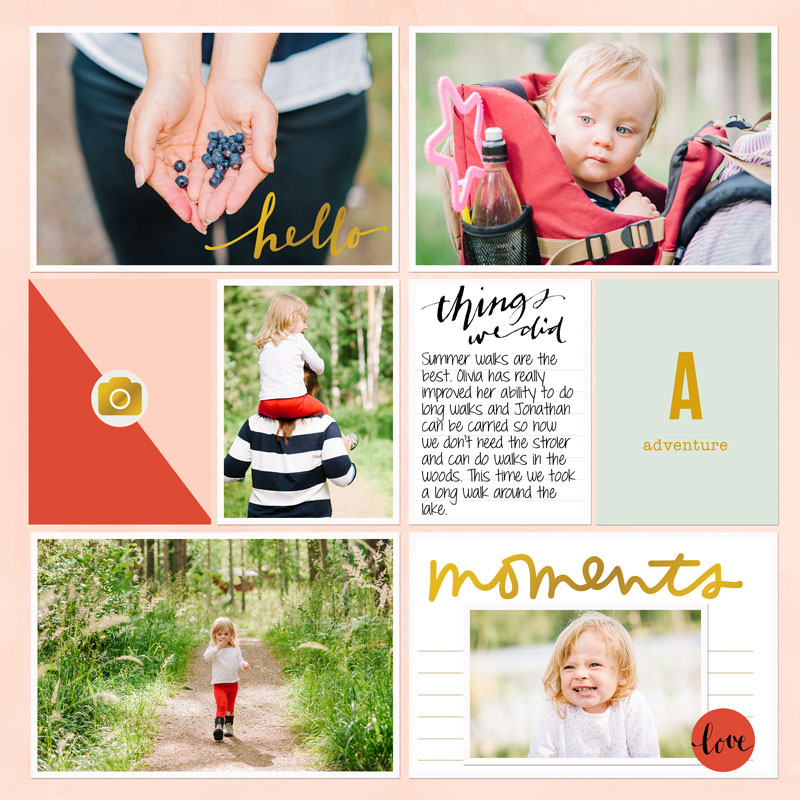 I have received some questions about this layout that I have done for Becky Higgins creative team so I thought I could address them all here on the blog so you all can follow and get an understanding of how I do it.
I use Photoshop CC for my Digital Project Life
I have done this spread in Photshop CC. I don't really want to compare the Project Life App to PS because it's to totally different working processes. I think the app is great I love to use it while I am on the train or buss and I use it as a complement to my digital PL. But this spared is done in PS which 90% of my PL spreads are done in.
The white borders around my photos
The white borders are actually added to the temple not to the photo it self. I use Stroke in Photoshop to add white borders and when you add a stroke to your template you don't have to worry of getting the white border centred. You can easily set a main stroke so it's the same for all your frames. It's super easy and I love the result.
The font for my journaling
The font I use is called Rebecka. I bough it long time ago at Sweet Shoppe Designs, but I think they have stopped selling fonts. It has international letters so I can use it when I write in Swedish and I use if for 90% of my journaling.  When I bought that font I was looking for something that would look like my handwriting and I think it was quite expensive at that time but I really don't regret buying it was so worth it.
Do I print my spreads?
I don't print my spreads. I do a photo book. You can see some pictures of my one of my PL photo books here. This year I think I will actually print two books one that covers Jan-Jun and one that cover Jul-Dec and print a lay flat book.
My photo gear
I have received questions about my Photo gear. I really don't write about my gear since it's so old. I use a Nikkon D700 it's like 10 years old digital full frame camera and for these photos I used the 85 mm 1:4 lens. I love that camera since it's so fast and the pictures size are quite small compared to today's 45 megapixels full frame cameras since it only has 12 megapixels. The 85 mm is my all time favorite lens for children photography and portraits and I use it a lot.
That's pretty much it. I am so glad that you liked this spread and I hope I could give you some good answers.